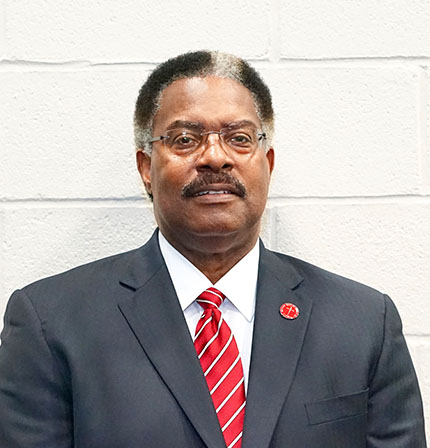 The Reverend Steve W. Hall has been the proud Pastor of Bethany Baptist Church since 1985. Pastor Hall is blessed to have the support of his wife, Sis. Diane A. Hall, who has diligently worked by his side for the cause of Christ. They are the parents of three sons, and the grandparents of five.
Pastor Hall takes pride in his country roots. He was born and raised in Navasota, Texas and graduated from Navasota High School. He grew up as the oldest boy in a family of four boys and four girls. He confessed his belief in Christ at the early age of twelve and was baptized in the Brazos River. He comes from a family line, which is strong in the Lord. He is the grandson of the late Pastor and Mrs. Benjamin J. Hall and the great-grandson of the late Pastor Willie Hall. His mother still resides in Navasota, Texas.
Reverend Hall is a graduate of Prairie View A&M University with a Bachelor of Science Degree in Civil Engineering and a Minor in Mathematics. While at Prairie View, he obtained an Officer's Commission into the United States Army and served for four years after the late Vietnam Era. He earned several commendations and medals including the highly honored "Meritorious Service Medal" in the rank of Captain. In 1991, the US Army awarded Pastor Hall an Honorable Discharge in his permanent rank of Captain.
He has previously served as Chairman of Deacons, Associate Minister and Assistant Pastor. His previous s ervice took place at Pleasant Green Missionary Baptist Church of Houston, Texas under the leadership of the late Pastor J.C. Neal. His seminary training has yielded two graduate degrees. He completed his Master and Doctorate degrees of study at the Houston Graduate School of Theology, in Houston Texas. He holds both an MDiv. (Master of Divinity) degree and a DMin. (Doctor of Ministry) degree as a result of his ABHE accredited seminary studies.
In the Community, he continues to serve in capacities wherever God opens doors. He currently serves as a commissioner on the City of Houston's Land Assemblage Redevelopment Authority (LARA Board) (Member 2008 – Present); His most recent appointments as Professor and Dean of Urban Programs for The Southern Reformed Theological College & Seminary in Houston, Texas has afforded him the opportunity to serve the Christian Community in a wider capacity by preparing other pastors, ministers and lay leaders of all denominations for the work of the Church. (Fall 2017-Present)
God sent Dr. Hall to Bethany Baptist Church and he was confirmed and ordained as Pastor in August of 1985. Pastor Hall believes that the Holy Bible is the inerrant Word of God and that Salvation is by none other than Jesus Christ. He therefore prides himself in teaching and preaching God's uncompromising Word. His aim is to totally remove all excuses from God's people for not serving God as He deserves to be worshipped and served. He strongly believes in tearing down traditional click-ish attitudes within the church while retaining that "old time religious" tradition of giving Christ the very best praise and service ministry possible. All to His Glory!!
Ready to connect?
Come Worship with Us
Serve with us